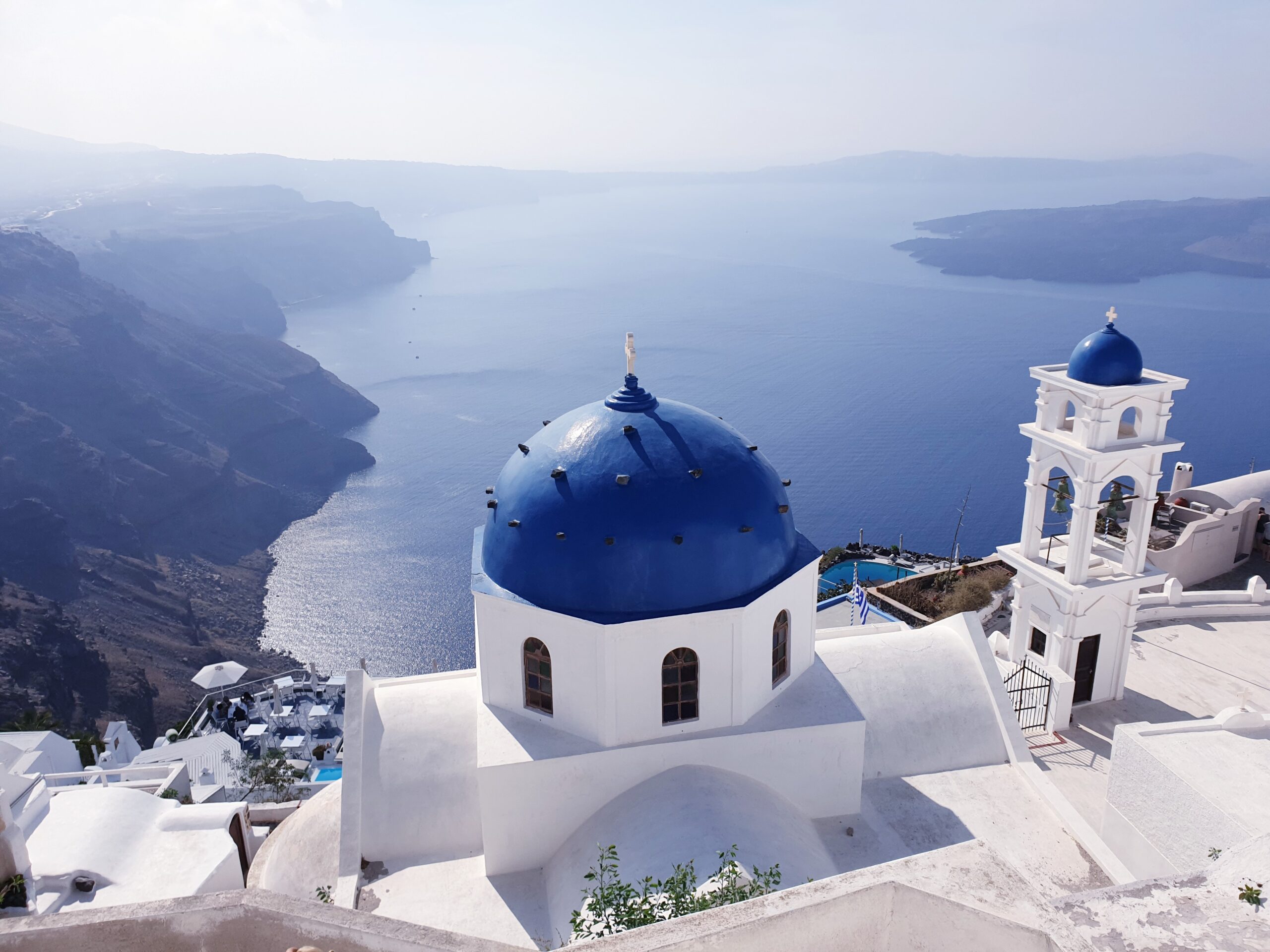 IRKA COLLECTION
Do Not Miss – "Decalogue"
A visit to Oia.
Imerovigli & Skaros Rock.
Fira Town. Shopping & nightlife.
Pyrgos Village. Castle and Prophet Elias.
Excavations place & Red Beach.
Wine tour. Sigalas Domain, Argyros Estate & Gavalas Estate are great choices.
Visit the Black Beaches on Perissa & Perivolos
Emporio Village and its "Castelli".
Vlychada's volcanic beach and landscape.
Sailing to Caldera and to volcano with Catamaran boat. Sunset or Daytime cruises.
Santorini suggestions
Imerovigli
Walk through amphitheatrically paths of Imerovigli and be a part of its cosmopolitan vibe.
Take memorable photos on Anastasi church with the blue domes just one step in front of our villa. One of the most famous spot in the world!!
Hike to Skaros Rock where the old fortress used to be and enjoy its breath-taking view of Caldera.
Taste a bit of Santorinian – Greek cuisine at Anogi Restaurant (based on Santorinian-Cretan Cuisine, No view), Avocado & Aegeon Restaurants (Mediterranean Cuisine). Try a modern Greek cuisine at Athenian House or for fine dining to La Maison. If you love steak houses do not miss the Rare Steak House (No View).
Santorini suggestions
Firostefani
It means "The crown of Fira town" in Greek. It is a passage from Fira to Imerovigli on caldera. You will find small tourist shops, many restaurants, Fish & chips bar and a Sushi. You can relax and drink an ouzo at one of the oldest "kafene" tavern in Santorini, Akteon.
Santorini suggestions
Pyrgos (kallistis)
Another one beautiful (Kallistis) village with mansions & churches of the 19th& 16th Used to be the old capitol of Santorini. Located in the highest point of the island and offers 360 degrees view of the island from its Castle on the top of the village.
The main square at the bottom of the village offers natural shade under the trees and some traditional "kafenes" (Kantouni& Brusco) using local products like cherry tomatoes, fava beans, katsouni on their menus, local beer(Crazy Donkey) and local wine.
An exhibition is available there which subject is Santorini from the past up today.
At the top of the tops located the monastery of Prophet Elias which it is the highest point of whole island (567mtr)
Great places for dinner like Selenemeze & wine, and Selene for fine dining. Great choice definitely. Cava Alta Restaurant (Spanish & Mediterranean cuisine), Rosemary( Santorinian-Greek-Mediterranean).
Santorini suggestions
Kamari
Beach side village to the southeast part of the island.
Known for its awarded volcanic beach. It is well organized.
On the top of its hill you can visit the Ancient Thira & the monastery of Zoodochos Pigi.
Very good spot the open cinema!! You can spend a relaxing moment on its special atmosphere. They are serving refreshing drinks, cocktails and snack type food.
By the beach you will find lot of taverns and restaurants like Mesogaia.
Just before the entrance to Kamari, at the bottom of Episkopi Church, you will meet Argyros Estate winery which definitely is a must for the Santorinian taste in your glass.
Santorini suggestions
Emporio
The pirate's village. One of the biggest village in Santorini. Well known for its Castelli which means castle, and Goulas. People of Emporio built those towers to be protected from pirate raids.
Opposite from the village, on a hill, you will find the windmills. Good and peaceful spot to enjoy a magnificent view.
Santorini suggestions
Vlychada
A fisherman's and agriculture village by the sea. Country side like, known for its beautiful volcanic landscape beach and for its small marina where the most of Catamaran boats starts them cruises to Caldera. Sunset or Daytime cruises.
Very good fish family taverns all around.
The volcanic landscape beach is semi-organized. Not missed!
One of the best beach bars of Santorini located there. TherosBar it is a well-organized bar with kitchen available to serve lunch or dinner to a very comfortable seats or sunbeds but refreshing cocktails too in its superb chill atmosphere.
The Tomato Museum. There also fulfilled music events and festivals as well as the Parkour semi-finals.
Santorini suggestions
Fira Town
The capital of Santorini. Staring directly to the magnificent view of the Volcano. Great photo shooting with sunset & volcano on your back sight.
Any kind of shopping can be made there. Souvenirs, clothing, jewellery shops until late at night.
Visit the Prehistoric Museum as well as the archaeological & folklore museums too. The Orthodox Cathedral but the catholic ones too.
Take the cable car and get down to the old port. (Donkeys not suggested).
In Fira you will find also all civil services, the post, the central Bus Station, laundries and super markets.
Several bars are located in Fira with the sight of the Volcano. All night life with clubs awaiting you till morning. We recommend Tango Champagne Bar, Koo Club, Enigma Bar.
For lunch or dinner you will find several choices from fast food to fine dining and any kind of cuisine, Greek souvlaki and fusion too, Italian, Mexican, Falafel, Thai, Indian, Chinese etc.
Argo Restaurant, (Greek –Mediterranean, great View), Assyrtiko(Gr-Mdt, No view), and Idol!
The best representative of Santorini. Famous about its Sunset, the blue dome churches and its architecture of the under-cave houses.
Walk the marvellous marble path, following the sun and you will reach the best spot to watch the sunset. The old Castle.
You will find there some art galleries, antique shops, jewelleries, special pieces of clothing and off course souvenir shops etc.
Great Places for dinner as Amvrosia, Melitini, Kastro & Sunsets restaurants based on Santorinian-Greek & Mediterranean cuisine. All with great view.
Walk down from the Old Castle 214 stairs and find Ammoudi Bay. A small harbour, famous spot for lunch or dinner with fish taverns by the sea and with sunset view some of them, like Dimitris, Katrin and Ammoudi fish Tavern.
In general Oia, has its own unique beauty.
, (Greek –Mediterranean, great View), Assyrtiko(Gr-Mdt, No view), and Idol!
Santorini suggestions
Exo Gonia & Mesa Gonia
Two traditional and very old settlements with mansions old Churches and agriculture houses.
Exo Gonia is proud also for the Metaxy Mas restaurant based on Cretan cuisine.
Mesa Gonia is famous for its Church, Episkopi which built on the 10th
It is worth for sure a visit to those places.
Santorini suggestions
Megalochori
Another one traditional settlement. A peaceful traditional village. Walk through the paths and you will be attracted by the Mansions and the architecture of the old ages.
Visit Gavalas Estate Between the best wineries of the island.
Try a "meze" in the small taverns on the main square.
Santorini suggestions
Perissa – Perivolos
Beach and swimmable area. Long volcanic with thin pebbles or sandy beach, organized, ideal to spend by the sea a whole day.
Water sports available too.
Famous beach bars like Wet Stories, Jojo, Tranquilo, offer fantastic cocktails and music. While you can find places more dedicated to families with small children like Terra Nera for lunch or dinner as well as Sea Side.
Santorini suggestions
Akrotiri
Definitely from the important Archaeological sites on the island. Maybe one with the best views over caldera.
Visit the Excavations place. A whole ruin city aged from prehistoric period. It is a must see.
Visit the Red Beach. Famous for its red color on the rocks above and on its pebbles on the beach.
The Venetian light house. A calm and romantic spot to watch the sunset absolutely.